Safety concerns at school addressed in Jackson County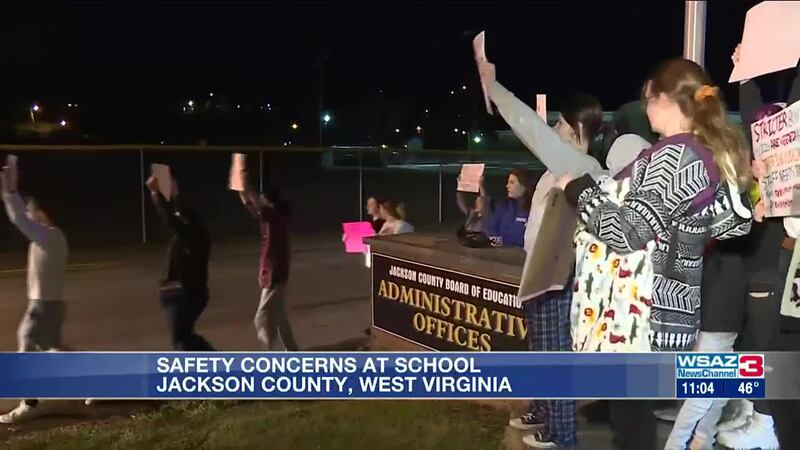 Published: Jan. 20, 2023 at 1:06 AM EST
RIPLEY, W.Va. (WSAZ) - Students and community parents held up posters outside before the Jackson County school board meeting Thursday.
Some of those students and parents spoke at the meeting sharing personal stories and concerns about student safety after an alleged abuse incident in Oct. lead to four students charged.
Students and parents claim those four students are still in school at Ripley High School. The organizer of the protest before the meeting, Mazzy Yoakum, has a foster student at the school.
"I just want to see different policies in place for not only the prevention of it but punishment for the kids that do things to other children," said Yoakum. "It frustrates me that there has been no change after years and years of this happening different occasions with children."
Superintendent Will Hosaflook said there is a process for the investigation.
"We have to follow federal law and federal law and federal law does provide the opportunity for sanctions to come later if the allegations are found out to be true," said Hosalfook.
Hosaflook said Jackson County Schools learned about the incident in early November. Those students were charged in late December.
"There has been no delay in our investigation Ripley High School administration did a fabulous job they jumped right on top of it," said Hosaflook. "If we put out the notification with that construe or mess up the investigation."
Three student from the high school including Barbara Shamelen-Fields spoke at the meeting.
"It's not about learning at all it is mostly about sports because they are trying to make everything about sports now," said Fields. "It's rough because a lot of us are scared it is going to happen again happen to them."
Fields said she got suspended for a day after walking out with other students from the school.
"I am here to make a change within the school because it is the last year and I don't want students from middle school coming up and people who are still here now have to go through something like this again," said Fields.
A community parent Jamie Elkins also came to share at the meeting. She said hearing the allegations makes her scared to send her child to school.
"I am sad to see that they are still in the school because being a victim and seeing your abuser everyday that has got to be traumatizing," said Chamberlain.
Hasoflook told WSAZ that the incident was isolated and the school is safe.
"What I can say is Ripley High School is a safe place I was there for eight years I loved being principle I taught there for another seven years," said Hosalfook.
Hosalfook said he is following up with the allegations of bullying shared by students at the board meeting. He said the investigation into the incident involving the four students and the victim is almost complete.
"Our investigation is almost complete but the Title IX states there are a lot of due process procedures that go through Title IX," said Hosaflook. "Once the investigative report is over the respondents and the victims get ten days to question the investigative report."
Board members went into an executive session about the topics brought up by citizens at the meeting.
Copyright 2023 WSAZ. All rights reserved.