2023 WVU football schedule released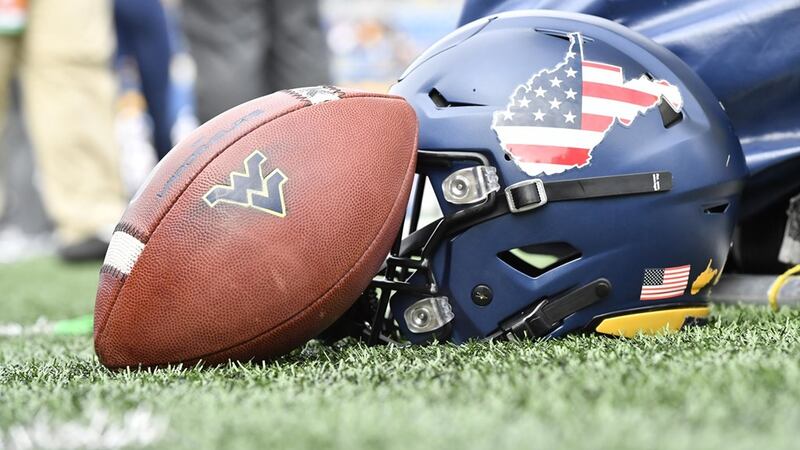 Published: Jan. 31, 2023 at 2:26 PM EST
MORGANTOWN, W.Va (WDTV) - West Virginia University, in conjunction with the Big 12, has announced the 2023 football schedule.
The schedule includes six home dates, featuring four conference games and nonconference matchups with Duquesne (Sept. 9) and the 106th "Backyard Brawl" against Pitt (Sept. 16).
The "Backyard Brawl" is the longest-running series in WVU history and marks the first time the two schools have played in Morgantown since 2011.
Milan Puskar Stadium will also host the Brigham Young Cougars for the first time ever, while the Cincinnati Bearcats return to Morgantown for the first time since 2010.
West Virginia opens the 2023 season on Sept. 2 at Penn State in the third-longest series in school history.
The 60th meeting between the two schools will mark the first time the Mountaineers have traveled to State College since 1991 and the first time the two schools have played since 1992.
The Oklahoma State game on Oct. 21 marks Homecoming on campus, while Mountaineer Week will be celebrated during the BYU game on Nov. 4.
"I am looking forward to my first football season at West Virginia and excited to be a part of the "Backyard Brawl," which is one of the greatest rivalries in college football," WVU Vice President and Director of Athletics Wren Baker said. "The Big 12 welcomes four new members into the league, which makes this a special season. My family and I are certainly looking forward to Gold and Blue football Saturdays in Morgantown."
West Virginia's Big 12 Conference home dates are Texas Tech (Sept. 23), Oklahoma State (Oct. 21), BYU (Nov. 4), and Cincinnati (Nov. 18).
Road conference games are TCU (Sept. 30), Houston (Thursday, Oct. 12), UCF (Oct. 28), Oklahoma (Nov. 11) and Baylor (Nov. 25).
The 2023 schedule does not include Big 12 Conference games against Iowa State, Kansas State, Kansas and Texas.
The Big 12 Football Championship game is scheduled for Saturday, Dec. 2, at AT&T Stadium in Arlington, Texas.
The times and television schedule for the 2023 schedule will be announced at a later date, and all dates are subject to change.
"Our players know what kind of schedule we play year in and year out, and they are preparing for the grind that it takes. The Big 12 is so strong and competitive. Every league game brings a new challenge each week and this year will be no different," WVU Head Coach Neal Brown said. "For the third straight year, we will open with a Power 5 opponent on the road, and we have a lot of work still ahead of us in our winter conditioning, spring practices and summer camp. The season will be here before you know it and our focus will be on getting better every day in preparation for one of the strongest football schedules in the country."
Fans can now join the Mountaineers for the 2023 football season at Milan Puskar Stadium. New season tickets are on sale to fans who did not have season tickets in 2022.
Season tickets are priced at $365. Certain seat locations may require a Mountaineer Athletic Club (MAC) annual fund gift. For a Milan Puskar Stadium seating chart, click here. Fans who made new season ticket deposits will receive a ticket statement with their balance remaining to complete payment.
New season ticket holders also can sign up for an interest-free, six-month or four-month payment plan and enjoy the convenience of spreading out payments. New season ticket orders can be made online at WVUGAME.com, by calling 1-800-WVU GAME or in person at the Mountaineer Ticket Office located in the Coliseum. Payment must be made by check, cash, VISA, MasterCard, Discover or American Express.
New season ticket holders will have the opportunity to select their seating locations through the Optional Seat Selection process in May, if they purchase by the Friday, April 14 priority deadline. Seat selection times will be based on MAC annual giving level and priority points within each level as of April 14, 2023. Priority to renew will be given to current season ticket holders.
Fans interested in premium seating options and parking availability can contact the MAC at 1-800-433-2072. Please note premium seating customers (Field Box seats, Diversified Energy Terrace, etc.) are not eligible for payment plans at this time.
Renewing season ticket holders can renew their tickets online at WVUGAME.com or by returning their priority renewal order form, which will be sent to customers in February, to the Mountaineer Ticket Office. The priority deadline to renew and make a MAC gift is Friday, April 14.
Below is the 2023 football schedule in its entirety.
| DATE | OPPONENT |
| --- | --- |
| Sat., Sept. 2 | at Penn State |
| Sat., Sept. 9 | Duquesne |
| Sat., Sept. 16 | Pitt |
| Sat., Sept. 23 | Texas Tech |
| Sat., Sept. 30 | at TCU |
| Sat., Oct. 7 | OPEN |
| Sat., Oct. 12 | at Houston |
| Thurs., Oct. 21 | Oklahoma State |
| Sat., Oct. 28 | at UCF |
| Sat., Nov. 4 | BYU |
| Sat., Nov. 11 | at Oklahoma |
| Sat., Nov. 18 | Cincinnati |
| Sat., Nov. 25 | at Baylor |
| Sat., Dec. 2 | at Big 12 Championship |
Copyright 2023 WDTV. All rights reserved.