Obituary: Hunter, Chester Frederick Jr.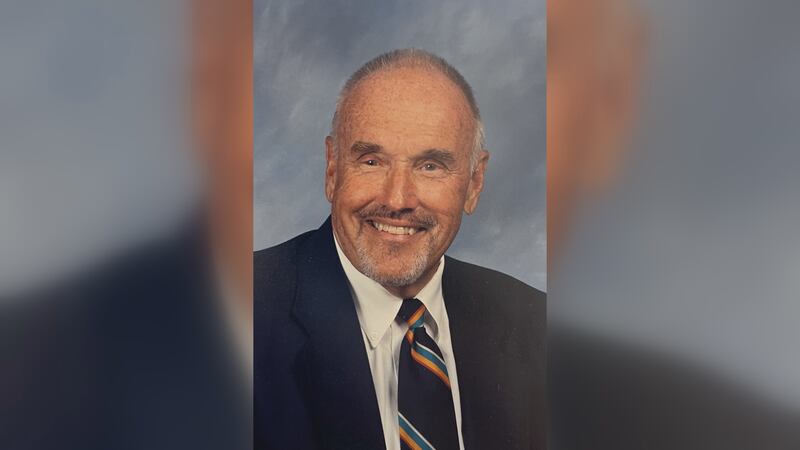 Published: Feb. 3, 2023 at 5:16 PM EST
On the evening of February 1, 2023, Chester Frederick Hunter, Jr. of Marietta, Ohio, passed away peacefully at his home. Fred, as his friends and family knew him, was 86 years old.
Born and raised in Marietta, Fred graduated from Marietta High School in 1954. He served for four years in the United States Navy as an air traffic controller and went on to graduate from Marietta College in 1962. He began his career in sales at Wheeling Steel, moved on to Marbon Chemicals in 1964, and ultimately retired with (BorgWarner) GE Plastics in 1995.
Devoted to his community, Fred served on the boards of Selby Hospital, Marietta Memorial Hospital, and Dime Bank. He volunteered with Washington County Harvest of Hope and worked to raise funds for The Historic People's Bank Theater. Fred was also a founding member of Settler's Bank. One of his greatest joys was baking and delivering cakes, fudge, and sweets for friends and loved ones. A self-professed river rat, he loved spending time on the Ohio and Muskingum Rivers and was a proud member of Marietta Boat Club for sixty-eight years.
Family meant the world to Fred. He is preceded in death by his beautiful granddaughter Courtney Saint-John and his only true love, Kaya. He will be missed by Carolyn Hunter, their daughter Tara Hupp, sons Scott and Brent Hunter; his daughter-in-law Annie Hunter; son-in-law Michael Hupp and daughter-in-law Angela Hunter, his grandchildren: Nathaniel, Jacob, and Clayton Hupp, Lilyen (Lance) Mueller, Owen and Reyna Hunter, Colin, and Jack Hunter, and two great-granddaughters: Lyla and Libby Mueller.
Thanks to the wonderful care he received from "Fred's Angels": Alice, Logan, Mary Jane, and Katrina, he was able to fulfill his wishes to remain in the comfort of his home.
Funeral services will be held at 11:00 a.m. on Tuesday, February 7, 2023, at the Marietta Chapel of Cawley & Peoples Funeral Home. Entombment will follow in Oak Grove Mausoleum. Visitation will be on Monday from 5 to 7 p.m.
In lieu of flowers, donations can be made to the Humane Society of the Ohio Valley (www.hsov.org) or Parkinson's Foundation (www.parkinson.org).
Copyright 2023 WTAP. All rights reserved.