American Legion Charity Ride makes a stop in Parkersburg as part of their four day tour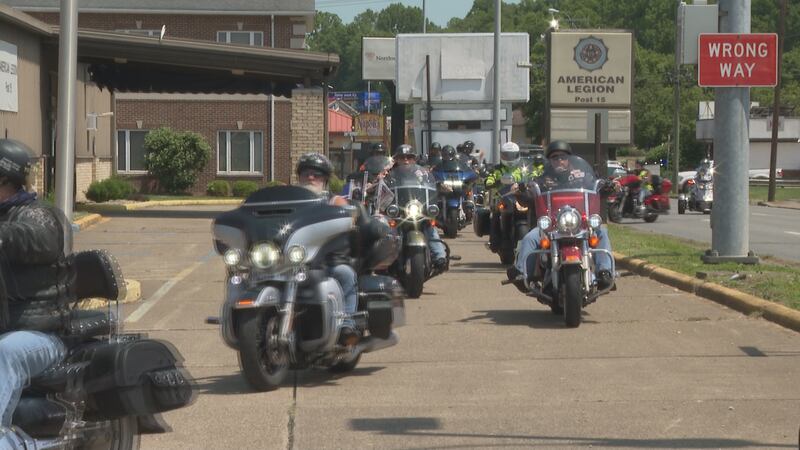 Published: May. 21, 2023 at 7:20 PM EDT
PARKERSBURG, W.Va. (WTAP) - Parkersburg, W.Va. was the stop for the American Legion Charity Ride Sunday afternoon.
The four day tour across the state started in Morgantown on Thursday from there they went to Seneca Rocks, to Bluefield, to Huntington, with a stop in Parkersburg and finished in Wheeling.
The riders task American Legion's throughout the state to have a fundraiser that the riders ride through the state and collect the donation for their scholarship funds.
The money they collect on their ride goes towards scholarships for the 'American legion mountaineer boys state' and the 'American legion auxiliary rhododendron girls state program'. These are programs that the American Legion sets up to pay for the registration fee and tuition for the kids who want to go to these camps.
At these camps high school kids get a deeper, more in-depth look at how the government operates. In some cases the students propose a bill or law that is eventually passed.
Riding through the state and collecting funding knowing it's going to a good cause gives some of the riders purpose. Riders like Cliff Shingleton who is the Riders Director for the American Legion Department of WV.
There is nothing better than riding with a purpose. We at the American Legion spend 95% of our time raising money for veterans, veteran service programs, children of veterans, family of veterans and that makes all the difference in the world. it gives the veterans who ride with us a purpose and a reason to get involved, it also helps us contribute to those charities we feel are in support," said Shingleton.
Copyright 2023 WTAP. All rights reserved.