Federal grand jury returns 22-count indictment against Alex Murdaugh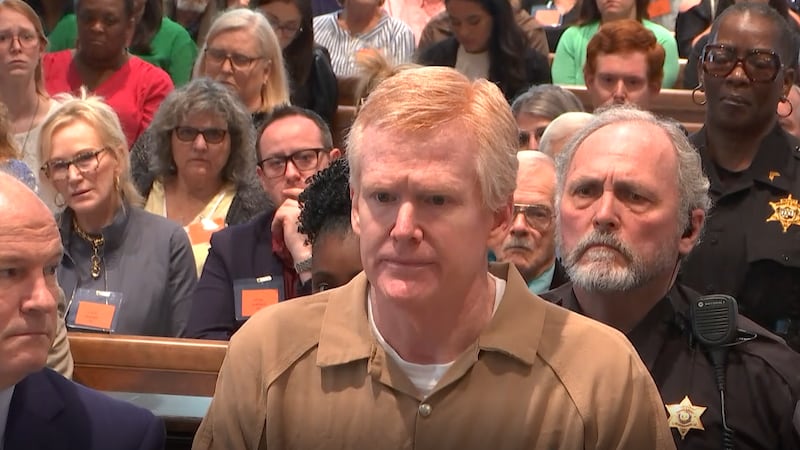 Published: May. 24, 2023 at 11:45 AM EDT
|
Updated: May. 24, 2023 at 11:49 AM EDT
CHARLESTON, S.C. (WCSC/Gray News) - The U.S. Department of Justice said a federal grand jury has indicted disbarred Lowcountry attorney Alex Murdaugh on nearly two dozen new charges.
Murdaugh, 54, is charged with one count of conspiracy to commit wire fraud and bank fraud, one count of bank fraud, a total of five counts of wire fraud, one count of conspiracy to commit wire fraud and 14 counts of money laundering.
He is currently serving prison time for the June 2021 shooting deaths of his wife, 52-year-old Maggie Murdaugh and their son, 22-year-old Paul Murdaugh.
"Trust in our legal system begins with trust in its lawyers," U.S. Attorney Adair F. Boroughs said. "South Carolinians turn to lawyers when they are at their most vulnerable, and in our state, those who abuse the public's trust and enrich themselves by fraud, theft, and self-dealing will be prosecuted to the fullest extent of the law. We are grateful to the FBI for their tireless work on this case and to the South Carolina Attorney General's Office and the South Carolina Law Enforcement Division for their work to hold Alex Murdaugh, and those who enabled him, accountable in our state system. We remain committed to doing our part to further that effort in the federal system."
The indictment alleges that Murdaugh, who was a personal injury attorney at a law firm in Hampton, engaged in three different schemes to obtain money and property from his personal injury clients, a release from the U.S. Attorney's Office states.
SPECIAL SECTION: The Murdaugh Cases
In the first scheme, the indictment alleges, Murdaugh devised a scheme to defraud and obtain money by means of false pretenses from at least September 2005 to September 2021. As part of the scheme, Murdaugh routed and redirected clients' settlement funds to personally enrich himself. Court documents allege the first scheme involved the following parts:
Drafting, or directing law firm employees to draft, disbursement sheets to send settlement funds to Murdaugh's accounts without proper disclosure or client or law firm approval;

Claiming funds held in the law firm's trust account as attorney's fees and directing the disbursement of those funds for his benefit;

Claiming and collecting attorney's fees on fake or nonexistent annuities;

Creating fraudulent "expenses" that were never incurred on client matters and directing the disbursement of settlement funds to pay the cited costs, including claimed medical expenses, construction expenses and airline expenses;

Directing other attorneys with whom he was associated on client matters to disburse attorney's fees directly to him, rather than appropriately routing the fees through the law firm; and

Intercepting insurance proceeds intended for beneficiaries and depositing them directly into his personal account
Court documents allege that in the second scheme, from around July 2011 until at least October 2021, Murdaugh conspired with his banker, Russell Laffitte, to commit wire fraud and bank fraud. The indictment alleges that Murdaugh and his law firm asked Laffitte to serve as the personal representative or conservator for numerous personal injury clients. Laffitte collected over $350,000 in fees as the personal representative or conservator for Murdaugh's personal injury clients.
As part of the scheme, the indictment alleges Murdaugh directed law firm employees to make settlement checks payable to "Palmetto State Bank." The checks were then delivered to Laffitte, whom Murdaugh directed to use the settlement funds for Murdaugh's benefit. The funds were used to pay off Murdaugh's personal loans and for personal expenses and cash withdrawals.
The indictment alleges that in the third scheme, which took place in September 2015, Murdaugh created a bank account in the name of "Forge," presenting as a legitimate corporation for structuring insurance settlements. Murdaugh was the owner of and the only authorized signer on this fake account. The indictment alleges that from in or around May 2017 through at least July 2021, Murdaugh funneled stolen personal injury settlements through that account. Murdaugh is charged with 14 counts of money laundering for using the transactions in the fake "Forge" account to conceal the proceeds of his fraud.
The indictment further alleges that, from in or around February 2018 until at least October 2020, Murdaugh conspired with a personal injury attorney in Beaufort to defraud the estate of Murdaugh's former housekeeper, Gloria Satterfield, and Murdaugh's homeowner's insurance carriers. In February 2018, Satterfield died after a fall at Murdaugh's home. Murdaugh recommended that the housekeeper's estate hire the Beaufort attorney to represent them and file a claim against Murdaugh to collect from his homeowner's insurance policies, court documents state.
Murdaugh's insurance companies settled the estate's claim for $505,000 and $3,800,000. The indictment alleges that Murdaugh and the personal injury attorney conspired to siphon settlement funds, disguised as "prosecution expenses," for their own personal enrichment and that Murdaugh directed the Beaufort attorney to draft checks totaling $3,483,431.95 made payable to "Forge." Murdaugh is then accused of depositing the checks into his fake "Forge" account and using the funds for his own personal enrichment.
Attorneys representing Satterfield's sons say the estate did not receive any of the settlement funds.
If convicted on all 22 counts, Murdaugh would face a total of up to 480 years in prison and fines of up to nearly $13 million.
Attorneys Dick Harpootlian and Jim Griffin, who represent Murdaugh, released a joint statement Wednesday morning shortly after news of the new indictment was released: "Alex has been cooperating with the United States Attorneys' Office and federal agencies in their investigation of a broad range of activities. We anticipate that the charges brought today will be quickly resolved without a trial."
Copyright 2023 WCSC via Gray Media Group, Inc. All rights reserved.