Parkersburg City Council votes on legislation banning camping in public spaces
Published: Sep. 13, 2023 at 12:31 AM EDT
PARKERSBURG, W.Va. (WTAP) - Parkersburg City Council passed the first reading of an ordinance that will ban people from camping on public property.
WTAP sat down with the council member leading the legislative effort and listened in on criticism during public forum.
While there are homeless encampments in Parkersburg, Council Member J.R. Carpenter said it's not a major issue in public spaces.
He said that this is a proactive measure.
The legislation was inspired by issues Carpenter's seen cities across the U.S. deal with due to encampments.
"I was down in Scottsdale, Arizona and witnessed a lot of homelessness, L.A. - I mean these encampments get very large. People tend to avoid them. They don't shop at the shops nearby. It's a negative process and then the city's are having to clean these things up," he elaborated.
People who violate this ordinance would have to pay anywhere from $100 to $500 in fines.
"If someone is setting up on our Point Park for an evening, the police now have the ability to remove them and trespass them if necessary," Carpenter said.
He added that the city currently has no official preventative measures against public encampments and that tax dollars pay for camp clean-ups.
Carpenter pointed out that there are multiple shelters in the area.
During public forum, one local criticized the legislation.
"These people will have to go somewhere. Where will they go? It appears you're trying to eliminate the problem by eliminating the people. Your job is to govern the people, not remove them," she said.
She put herself in homeless people's shoes, imagining where they'd go if kicked out of public spaces.
"I would probably opt for a business that was open 24 hours. This would not be helpful to the business owners or to the customers," she said.
She also pointed out that homeless people won't be able to pay the proposed fine.
"I propose a compromise. Rather than establish fines that are not going to deter the encampments and that you're never going to collect, assign community service instead and have them clean up the trash."
She suggested designating an area as an encampment rather than spending money cleaning up encampments, which she referred to as a "never-ending problem."
She believes having a central location could make it easier to help homeless people.
The ordinance would allow people to camp on public property for historical, cultural, or educational purposes. They would, however, need permission from the director of public works. Carpenter said that the permit is free.
Council Member Wendy Tuck was the only person to vote against the legislation.
Chris Rexroad and Mike Reynolds were not present.
An official copy of the legislation can be found below.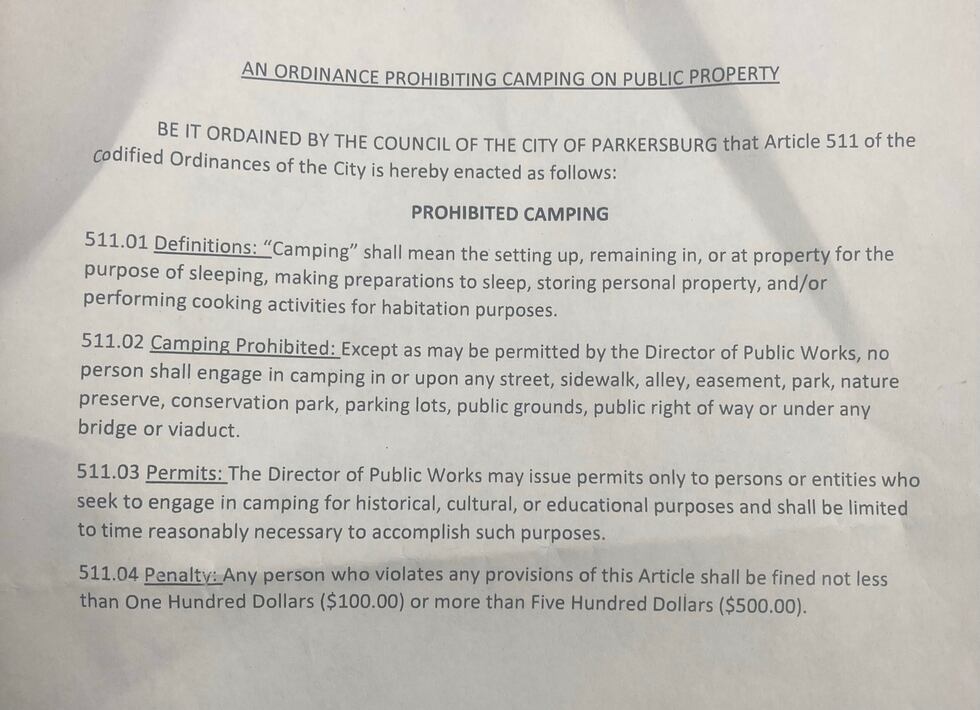 Copyright 2023 WTAP. All rights reserved.