GEAR UP SWV to hold "Meet Up" event for parents/guardians of students
If you have a 7th/8th grader and would like to learn more about college enrollment, this may be for you.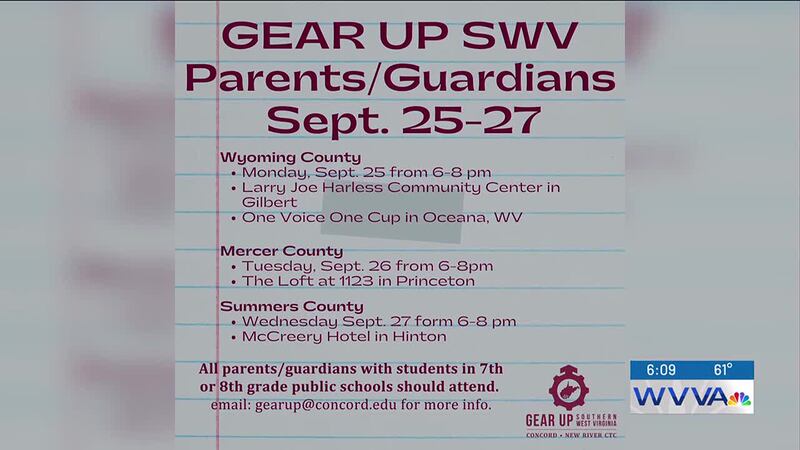 Published: Sep. 25, 2023 at 6:33 PM EDT
PRINCETON, W.Va. (WVVA) -GEAR UP Southern West Virginia is inviting parents, guardians, and students from local schools to meet their team and learn valuable information about preparing for college.
If you have a student enrolled in seventh or eighth grade in many south West Virginian public schools, you may have heard of GEAR UP Southern West Virginia. It's part of a federal grant that hopes to give students the tools they need to succeed in postsecondary education. Now, for the first time, GEAR UP SWV hopes to meet with families directly. On Tuesday, September 26, they will be holding a "Meet Up" event at the Loft in Princeton to meet those with seventh or eighth grade students from Mercer County Schools.
In addition to STEM-focused door prizes, they hope to also give people a peace of mind when it comes to enrolling in college.
Kristen O'Sullivan, director, GEAR UP SWV: "I know, as a mother myself, when I'm getting one of my young people – although their young adults now, but when I was getting them enrolled in things, it was helpful to know somebody personally that was involved. It made me feel much more comfortable. So, we really want to be on that level."
If you would like to learn more about this event and other locations it will be held in the future, O'Sullivan says you can go to GEAR UP Southern West Virginia's website.
These Meet Up events are also a part of National GEAR UP Week which hope to raise awareness about what this program does.
Copyright 2023 WVVA. All rights reserved.