Obituary: Mckitrick, Michael L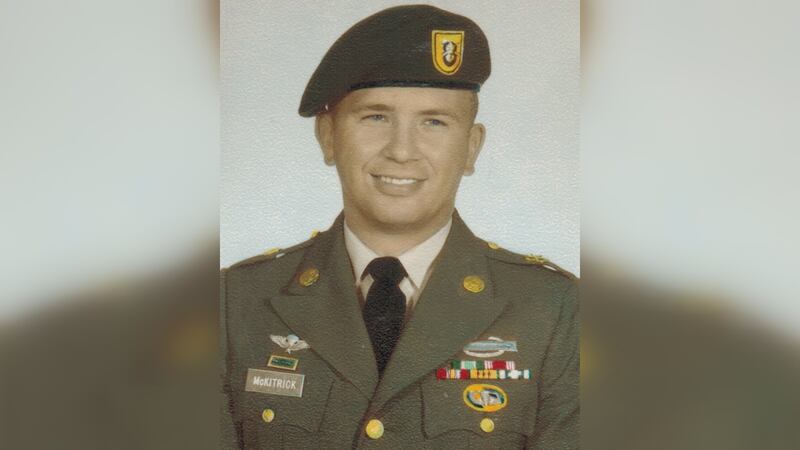 Published: Sep. 25, 2023 at 5:23 PM EDT
Michael L Mckitrick, born July 15, 1943, to William and Louise Mckitrick died September 24, 2023, at home following an illness.
Mick served 4 tours in Vietnam as a member of the 1st, 5th and 7th Special Forces (Green Berets) Mac V-Sog and a member of the Decade Club. Medals include the Soldiers Medal (for heroism), Bronze Star with V device (for Valor) Army Commendation Medal with V Device (for Valor), Navy Marine Corp Presidential Unit (for Khe Sanh), Good Conduct Medal, Master Parachutist Wings, Combat Infantry Badge, Vietnamese Parachutist Wings and Chinese Parachutist Wings.
Survived by his wife Pam, daughter Michele, siblings Jan, Steve, Scott, Pat, and Brian, and grandchildren Christopher, Phillip, Andrew, Elissa, Alex, and Justice. Preceded in death by daughter Andrea.
As per his wishes, cremation has taken place and there will be no services.
What is a Veteran? A "Veteran" - whether active duty, discharged, retired, or reserve - is someone who, at one point in his/her life, wrote a blank check made payable to "The United States of America," for an amount of "up to, and including his life." That is honor. And there are way too many people in this country today, who no longer understand that fact. - Author Unknown
Copyright 2023 WTAP. All rights reserved.