Leanne Sturm of Parkersburg Catholic Elementary gets September 2023 Jan Dils Golden Apple Award
Published: Sep. 26, 2023 at 2:03 PM EDT
PARKERSBURG, W.Va. (WTAP) - The September 2023 Jan Dils Golden Apple Award, and first winner of this school year, was presented to Leanne Sturm from Parkersburg Catholic Elementary School.
This is the first time the award has been given to a teacher at the elementary school.
Leanne Sturm has been teaching at Catholic Elementary for over 20 years, but her relationship with the school goes far beyond that. Her mom was a teacher at the school and would bring Sturm along.
"One of the nuns would watch me while my mom taught. So, I've been a part of this school since [I was] about a year and a half [old]."
Sturm attended Catholic Elementary and then took a position at the school following her mom's retirement
"When my mom retired… it left a position open here. So, I took the first grade position here and I've been here about 20 years. I've taught two of my own children."
She went on to say she is now getting to the point of teaching the next generation of students, some of them children of her past students.
Sturm is described by fellow teachers as a true educator, being committed to making her students feel valued and able to reach their full potential.
Her classroom is described as a well-oiled machine with students always being engaged.
She said she was appreciative of winning this award and thanked the people she works with everyday.
"We're super tiny in terms of a staff. So we're really close. I think we all work together and I could not do this job if it wasn't for the people that I worked with. They're amazing, and my family's support obviously, but the people I work with... You gotta enjoy the people you come to work with everyday. It's just a great staff. They're always going to be there for you if you need anything and you hope they know you'll always be there for them too."
Sturm's family surprised her during the ceremony. She says it meant a lot to have them there, saying the school is big part of their lives. She said once you've been a part of Catholic schools, you 'bleed blue.'
"I feel like they've grown up in this school as much as I grew up in this school. So it was just great to have my school-family and my family-family here with me."
Sturm's advice for aspiring and current teachers is to drink a lot of coffee... and find people who will help keep you on your path.
"You're going to doubt yourself sometimes and the days are going to be trying, but the joy that you get when you're with kids and you see that lightbulb and you see them learn it just makes it all worth it.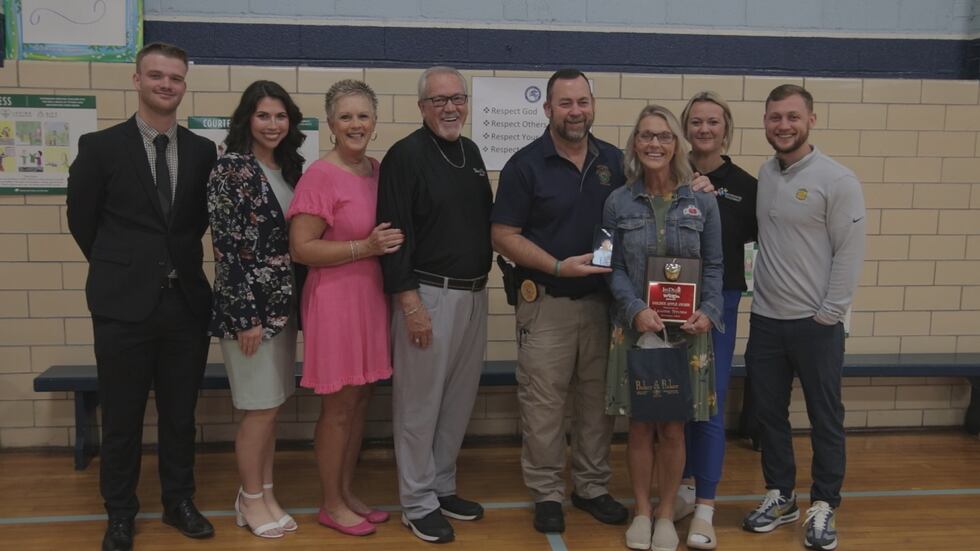 Copyright 2023 WTAP. All rights reserved.