Obituary: Sarver, Glen Edward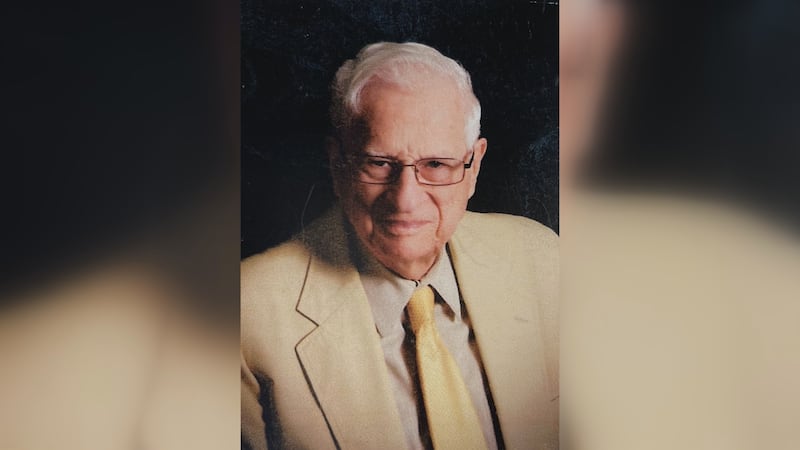 Published: Sep. 27, 2023 at 4:45 PM EDT
Glen Edward Sarver, 99, of Marietta, passed away on September 26, 2023. He was born on May 20, 1924, in Marietta, Ohio, to Walter W. and Nora L. (Becker) Sarver.He was a 1942 graduate of Marietta High School and a 1950 Cum Laude graduate of Marietta College, receiving a BS in Chemistry. He served three years in the Army during WWII in both the European and Pacific theaters. After the war in 1946, he married Claretta Fulmer and they went on to be blessed with two children, Larry and Janine.
Glen worked at the local BF Goodrich facility as the technical manager of the calendaring department for 33 years, enjoyed an active family life, was a member of the The Church of Christ, and enjoyed hunting and fishing in Ohio and West Virginia. Following his wife's death he retired to work around his home, the former Dan Buell summer home, and tend to his late father's oil and gas properties. In 1990, he married Helen (Roney) Szabo, widow of the late John Szabo, moving to a new home in the area.
Glen is survived by his children, Larry (Susan) Sarver and Janine (Tom) Eddy, grandchildren, Jon (Lydia) Sarver of Marietta, Ben (Nichole) Sarver of Michigan, Janet (Dan) Lim of Washington D.C., Alicia (Guy) McIntire of Marietta, and Luke (Emily) Eddy of Oklahoma, 15 great-grandchildren, and 2 great-great-grandchildren.
Funeral will be held at Leavitt Funeral Home in Belpre at 12:00 pm on Friday, September 29, with visitation preceding from 11am to 12pm.
In lieu of flowers, make contributions to Walk4Water, c/o Healing Hands International, 455 McNally Drive, Nashville, TN 37211.
Online condolences may be sent to the family atwww.LeavittFuneralHome.com
Copyright 2023 WTAP. All rights reserved.