This is Home: Recognizing veterans around Veterans Day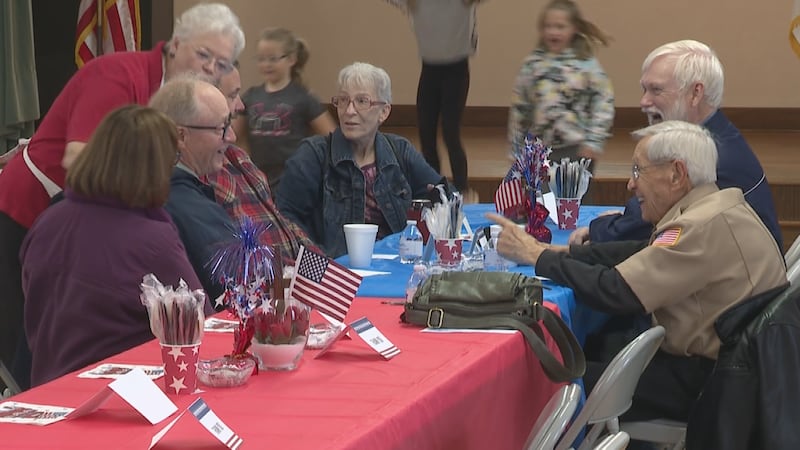 Published: Nov. 11, 2023 at 4:47 PM EST
PARKERSBURG, W.Va. (WTAP) - In recognition of Veterans Day, businesses, schools, and churches have held events to recognize veterans.
Jan Dils Attorneys at Law held a spaghetti dinner, WTAP hosted a luncheon, St. Paul Lutheran Church put together a breakfast, and many other meals were held for veterans.
Jan Dils shared the reason for the dinner.
"Our community supports you, we are blessed to have you with us today, and thank you for your service and everything that you have done for our freedom," said Dils.
Other businesses used their talents to provide care for veterans.
Smiles on the Boulevard held a free dental clinic for veterans.
The clinic started about 10 years ago after Dr. Lori Hawkins learned the level of care veterans were receiving.
"The care for the veterans wasn't as good as it should be, and that kind of spurred me to think of what I could do to help our veterans. It started 9 years ago to provide that care for them," said Dr. Hawkins.
Sunset Memorial Cemetery and schools across the Mid-Ohio Valley also held ceremonies for veterans.
Lubeck Elementary Principal Tim Collins shared what it meant to hold their program where they recognized about 60 veterans.
"It's a real honor being able to get everyone into one place, call names, and present awards and gifts. It's just a good feeling for the community and a good way to recognize our veterans," said Collins.
All of the recognition means a lot to veterans, especially Marine Crop. Veterans John Sprigg.
"I'm a Vietnam Veteran, and at the end of the Vietnam War, there was no welcome home or anything like that. It means a lot to come to things like this and have the kids recognize us," said Sprigg.
Copyright 2023 WTAP. All rights reserved.