Obituary: Wilson, Robert Woodrow (Woody)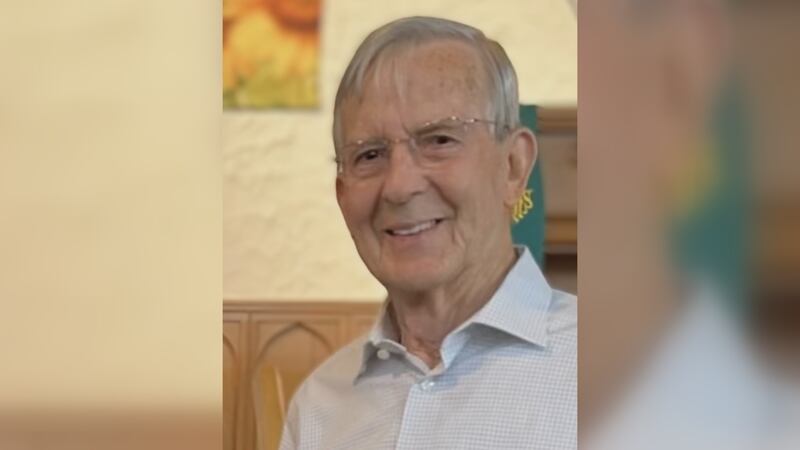 Published: Nov. 14, 2023 at 4:50 PM EST
Longtime patriotic Parkersburg storyteller, educator, coach, and choir member, Robert Woodrow (Woody) Wilson, transitioned from this life to the next on November 9, 2023, just shy of his 80th birthday after more than a year of health challenges. Woody was born during World War II at St. Joseph's Hospital in Parkersburg, West Virginia on November 21, 1943.
Woody grew up in Wirt and Calhoun Counties until his family moved to Pleasants County during his high school years. He was a first-chair trumpeter in his freshman year and then became a three-letter athlete at St. Mary's High School. His younger sisters remember him as a "Pied Piper of the little kids of the neighborhood" before he would leave to join his own friends for sporting events. He and his family were active in 4H and the Baptist Church as well. After graduating in 1961, Woody joined the US Army. He was inspired by the valor and devotion of his father, aunt, and all his uncles who joined the war effort (and all returned home). During his service, he constantly sought challenges excelling to the level of Green Beret in 1963.
He served his country in Vietnam earning the Medal of Valor in 1964 for "mobilizing the troop to attack and occupy the enemy position causing the defeat on the enemy side." After his service in Vietnam, First Lieutenant Wilson served in the National Guard until 1977. Woody earned his bachelor's degree in education at Glenville State College after the Dean finally brought him in and urged him to declare a major after taking so many classes. He went on to West Virginia University to earn a master's degree in Asian Studies - always trying to better understand his experience in Vietnam.
A lifelong learner, Woody continued to earn more graduate hours throughout his career. Teaching was in his blood as his mother was a well-remembered first-grade teacher at St. Mary's Elementary School. He taught a total of 28 years in West Virginia and seven years in Florida. Woody had many academic accolades. He became a National Board Certified Teacher of Social Studies and History (2000), was named DAR American History Teacher of the Year (2002), and was the first West Virginia recipient of the highly esteemed Guilder Lehrman American History Teacher of the Year (2006). Mr. Wilson was recognized multiple times by students attending the West Virginia Governor's Honors Academy as their Favorite Educator.
Woody had a deep appreciation for his educational experiences "Walking Through History" with American Heart. His overarching teaching goal was to make history come alive for his students through student-led seminars, congressional-like debates, and presentations where he worked hand-in-hand with student-led teams to complete the projects. He also collaborated with teachers to create grade-wide theme-focused units on the Roaring Twenties, the Spanish Civil War, and the Dynamic Sixties. For years, he brought WWII veterans into his classroom for in-depth presentations of their experiences. He was a master teacher whose students have stories to tell about their experiences that were intentionally leading them to become better-informed Americans. He retired from teaching in 2008 and became "Professor Wilson" working with homeschool students through Media Angels, Inc. for a few years. Finally, he mentored history education majors at Ohio Valley University. Woody Wilson's legacy of education surely lives on.
Woody embraced his coaching experiences. He coached basketball in West Virginia and Florida and primarily coached football when he returned to WV in 1981. He was head coach at Jackson Junior High (where Head Hunters reigned) and Parkersburg South and on staff at Belpre High School. Athletes learned drive, determination, dedication, and a never-give-up attitude working with Coach Wilson. Woody Wilson loved his family. His soulmate of 42 years, Jeanie, was the love of his life. He had a stepson, Shannon, who he also coached in track and baseball. Shannon was a natural and fearless high jumper astounding us all and an excellent baseball pitcher. Woody had two daughters, Lori and Jolie, and loved being part of their lives. When his daughter Lori showed interest in basketball in junior high, he helped her build a clay basketball court with the backboard facing the woods. She remembers that it taught her to rebound since she didn't want to venture into the woods with poison ivy to retrieve the ball! Woody was proud of Lori as she became a captain of both Parkersburg High's girl's basketball team and the WVU Women's basketball team. When his daughter Jolie was in ballet, he couldn't quite fully participate in that. However when her dance troupe became involved in the production "Eden of the River" and she came home telling of the availability of the singing role of Colonel Hugh Phelps, Woody said, "Yes!" and joined in the summer production!
He loved opportunities to support his children at home and beyond. Woody was indeed a music man. He grew up singing at home, in church, and with friends. In Vietnam, one of the Vietnamese support team members taught him a few simple guitar chords and songs. From there, Woody was never without his guitar. His students would remember music in the classroom too. Woody was also an active member of the Parkersburg Choral Society for over 25 years.
An avid reader, Woody enjoyed all types of books, especially biographies and autobiographies. He and Jeanie traveled and they especially loved haunts along the Blue Ridge Parkway, Sanibel Island in Florida, and their trips out West - especially driving and hiking among the Grand Tetons, Rocky Mountains, and the Redwoods of California. He was Jeanie's strong hands with all their gardening projects building a backyard full of flowers, birds, and wildlife.
Woody is survived by sisters, Patricia Martina of Wisconsin, Ann Wilson of California, and Lynne Hammond also of California; his wife, Jean, step-son Shannon (Carrie) Boswell, and daughters Lori (Mark) Lowers and Jolie Wilson. He had seven grandchildren: Kayla (Shannon) Lowers Piggott, Justin Lowers, Avin Gladwell, Kristen Lowers, Finn Gladwell, Kyan Gladwell, and Roen Gladwell. He had one great-grandson, Mason Woodrow Piggott. Woody is predeceased by his father, Elwin Blaine Wilson; mother, Wynema Ruth Wilson; brother, James Rudolph Wilson; and in-laws Benny Martina, Bobi Wilson, and Bob Hammond.
Woody Wilson will be remembered as a beloved husband, father, grandfather, brother-in-law, uncle, teacher, coach, singer, friend, and neighbor.
His cremated remains will be interred in Elizabeth at the Knights of Pythias Cemetery at 1:00 p.m. on Saturday, December 9, with a military salute, songs, and appreciation. All are welcome. Later that day, we will gather at the Leavitt Family Center for a Celebration of Life with his music between 4:00 and 7:00 p.m.
Please join us and if you have a story you would be willing to tell about our Woody Wilson please come and share it. In lieu of flowers please remember Woody Wilson with donations to either Waverly Volunteer Fire Station - PO Box 96 Waverly, WV 26184 or The Parkersburg Choral Society - 41 Acorn Lane Parkersburg, WV 26101.
Those wishing to share a story, fond memory, or their condolences, please visit MOVCremation.com (Mid-Ohio Valley Cremation Society)
Copyright 2023 WTAP. All rights reserved.