Obituary: Goetemann, Rev. Gerald B. "Gerry"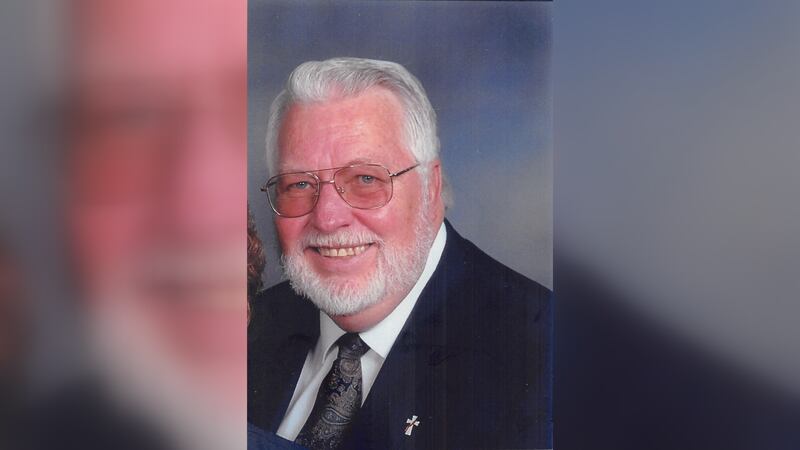 Published: Nov. 20, 2023 at 12:58 PM EST
The Rev. Mr. Gerald B. "Gerry" Goetemann, 86, of Parkersburg, WV, died Saturday, November 18, 2023, at his home. He was born on Dec. 15, 1936, in St. Louis, Mo., the son of the late George B. Goetemann and Louise H. Stoeckle. He graduated from Christian Brothers H.S. in St. Louis and from the University Of Notre Dame, receiving a B.S. degree in Mechanical Engineering in 1958.
After serving his country in the U.S. Navy aboard the USS Forrestal (CVA 59), he married Mary Katherine "Kit" Bunting of E. Ocean View, Va..in 1960. He went to work for the E.I. DuPont Co. and retired in 1993 as a senior engineer after 33 years. In 1979, Gerry was ordained to the Permanent Diaconate for the Catholic Diocese of Wheeling-Charleston. He was a member of St. Margaret Mary Church in Parkersburg, WV. His ministry to the Church focused primarily on servicing the needs of the poor in various capacities, preaching the Good News of our Lord and in teaching on the mercy of God as experienced through Life in the Holy Spirit.. His hobbies included model railroading, genealogy, and gardening.
He is survived by three daughters, Katherine L Taylor and her husband, Jim, of Buck Creek, In., Sharon M. Milliman and her husband, Gary, of Parkersburg; and Monica A. Wareheim and her husband, Jerry, of Parkersburg, seven grandchildren, 11 great grandchildren, 4 great-great grandchildren, and many beloved nieces and nephews. After the death of his wife, Mary Katherine, God blessed Gerry by allowing him to meet and marry Virginia E. Keiser of Parkersburg, WV. Virginia brought into the marriage four children, Ed Morrison (Missy), Angie Morrison, Buck Morrison (Becky), Melissa Frederick (Roger), 10 grandchildren and 13 great grandchildren and many beloved nieces and nephews. In addition to his parents, Gerry was preceded in death by his wives, Mary Katherine and Virginia; two sons, Michael Christopher and Steven Gerard and one brother, Gordon G. Goetemann and his wife (Judy Steel), of Gloucester, Ma. Also preceding him death were a step-grand daughter, Hannah Marie McNabb, a step-brother, John Jerkins, a step sister Anna Bunner, and a step-brother-in-law, Kendall Cain. A Mass of Christian Burial will beTuesday 11:00 AM at St. Margaret Mary Catholic Church. Burial will follow at Mt. Carmel Cemetery, Parkersburg with military honors by American Legion Post 15.
Visitation will be from Tuesday 2-4 and 6-8 PM at Leavitt Funeral Home, Burdette Chapel, with a Christian Wake Service at 7:30 PM.
Donations in lieu of flowers can be made to St. Margaret Mary Church - Mt. 25 ministry.
Copyright 2023 WTAP. All rights reserved.