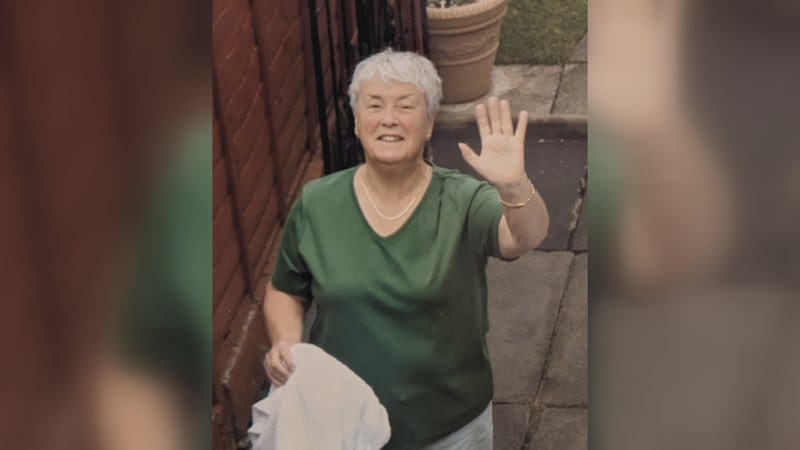 Published: Nov. 21, 2023 at 1:29 AM EST
I would like you to meet my mum, Karen Prigge nee Harvey.
She decided it was her turn to leave her mortal remains in Marietta on Nov.18, 2023, for somewhere better. Karen, aka Mum, came to the USA 60 years ago from Middlesbrough, North Yorkshire, England, as a maid for a family in CT.
Her passion for something more made her stay. A handsome man, "Good Guy" Pete, caught her eye, and they were married in North Salem, NY, by Judge Crowe. He says she came to the States to meet him! Since then, she's lived in 4 states and three other countries.
She was a prolific knitter, world traveler, and giver. Many people she knew received baby garments and blankets or sweaters she'd knitted with love – she would also point out a mistake if there were one she hadn't corrected! Her favorite trips included catching up with family and friends in NY, MI, England, and Australia.
During her lifetime, she never met a stranger. Her friends and family will miss her terribly but will smile when they remember her whistle that could get a cab in NYC or call a nurse faster than any call bell, the faces she could make that made one laugh or her stories of playing knicky knocky nie door 3 doors down and being a founding member of the Rocky Road Gang. Her laughter was contagious, as was her smile. She truly was someone special.
Her careers and community services were varied, including school bus driver, teacher, 3rd St Deli server, volunteering for various agencies throughout Marietta, including Commodity Boxes, which she looked forward to every month. She was also a long-time avid supporter of Right Path, enjoying their annual fish fry and spaghetti dinners, the Human Society of the Ohio Valley, and Eve.
Mum is now reunited with her sisters, her father and mother, friends, and pets, especially Skilos and Sybil. May they all be celebrating, nattering, drinking sangria or tea (with milk), and noshing on fish and chips, calamari, pork pies, mushy peas, and steak with brown sauce.
I pray we did her proud throughout her lifetime as her husband, Peter, and daughter, Beverly.
Her family will greet friends from 4 to 6 p.m. on Monday, November 27, 2023, at the Marietta Chapel of Cawley & Peoples Funeral Home.
Cawley & Peoples is honored to serve Karen's family and offers online condolences as well as many other resources by visiting their website, www.CawleyandPeoples.com, or by following their Facebook page.
Copyright 2023 WTAP. All rights reserved.