UPDATE: Girl Scout Cookie booths returning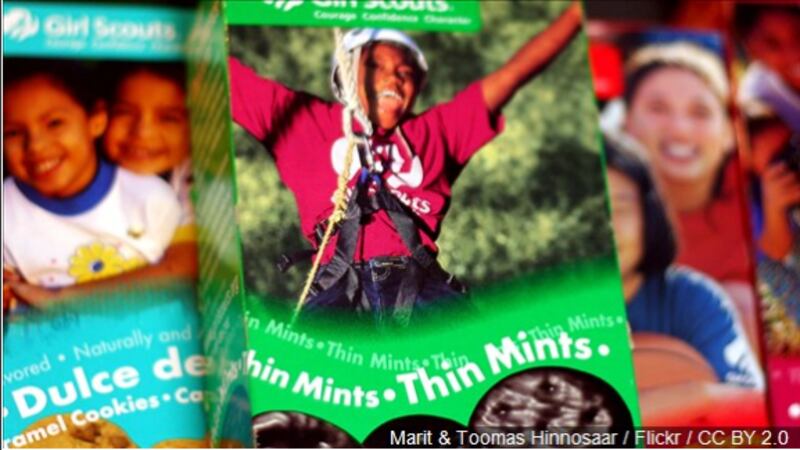 Published: May. 26, 2020 at 12:01 PM EDT
UPDATE: 6/08/20
As a result of the COVID-19 pandemic, area Girl Scout troops have been unable to sell cookies at booths, as they would typically do. But as re-openings continue around the Mid-Ohio Valley, the scouts are in the process of scheduling booth sales throughout the area. Troops were permitted to begin applying to host cookie booths as of Friday, June 5, according to Candace Nelson, director of marketing for the Girl Scouts of Black Diamond Council.
In a typical year, the scouts purchase the number of boxes of cookies they've decided on at the start of "cookie season", then sell them to the public through direct sales to individuals and booth sales. However, they've faced challenges doing that this year due to booth sales being canceled, and many scouts are still holding onto unsold boxes.
During the pandemic, the scouts have received donations from various organizations and companies covering the cost of the many boxes that were subsequently given to local healthcare workers and first responders. However, Nelson said, many troops still have quite a few boxes left.
"We have been very fortunate to be able to work with a lot of our community partners who have generously donated funds to make sure these cookies go to folks in need or folks on the front line who are addressing the COVID-19 pandemic," Nelson said. "But with all of that being said, our Girl Scouts set really high goals at the beginning of the cookie season, and the proceeds from these sales help fund their activities..So they have a lot of cookies on hand still," Nelson added.
Despite the challenges posed by the pandemic, Nelson is still hopeful that the girls will be able to reach their earning goals.
"This is much later in the year than we typically sell cookies. But of course, as everyone knows, this year has definitely been different. We have adjusted every step of the way so this is yet one more effort to really help our girls make sure that they are continuing to learn those skills, but to do so safely, and to help them reach those goals. And I hope that this brings them one step closer," she said.
In addition, Nelson said that precautions are being taken to ensure the safety of the scouts and their customers. Those working at the booths will be wearing personal protective equipment (PPE) and will not be allowed to participate if they have been ill. The number of girls selling at the booths will be limited and Centers for Disease Control (CDC) guidelines will be followed.
Nelson explained that many of the girls are looking forward to the opportunity to work the booths.
"Our girls from the beginning really missed seeing their friends and missed participating and getting outdoors. A lot of our girls really look forward to selling the cookies because they get to let their creativity shine, too. They love decorating the booths and interacting with folks," Nelson said.
Those interested in making donations, as well as those who would like to purchase cookies but are unable to find a nearby booth, are asked to email cookies@bdgsc.org. To locate a booth in your area, click the link under Related Links on the right side of this screen, and note that dates and locations are continuing to be added.
ORIGINAL STORY: 5/26/20
Last week, in recognition of Emergency Medical Services (EMS) Week, the West Virginia EMS Coalition and the Girl Scouts of Black Diamond Council received support from AT&T in order to donate about 3,600 boxes of Girl Scout cookies to EMS first responders statewide.
The West Virginia EMS Coalition received a grant from AT&T, which the organization in turn used to cover the cost of approximately $20,000 worth of cookies. The financial support comes at a critical time for the scouts, many of whom are still holding onto boxes of cookies that they have been unable to sell because booth sales have been canceled due to the COVID-19 pandemic.
"There was definitely a great need. In our council, our girls really have big dreams and ideas, and big goals to help get them there. So when their season was cut short, we really wanted to do everything we could to help them still reach those goals," said Candace Nelson, the director of marketing for the Girl Scouts of Black Diamond Council. "We're extra excited that we're really able to give back to those who have been keeping us safe on the front lines," she added.
Scout troops around the state have begun distributing the boxes to their local EMS first responders. In Wood County, boxes will be given to first responders who work with the Camden Clark and St. Joseph's ambulance services.
"Right now, with the COVID-19 situation, lots of people are stepping up to say thank you and express their appreciation for first responders and recognize their healthcare heroes. But we like to remind our folks in EMS that they're always heroes to us," said Chris Hall, executive director of the West Virginia EMS Coalition. "We feel like at times that EMS is the forgotten leg of first responders. Everyone kind of remembers the firefighters and the police officers, but EMS doesn't always receive the same support. So in this case, we're really grateful to AT&T for stepping up and saying thankful, and allowing us...to also say thank you," he added.
In addition, Hall noted that his organization appreciates the opportunity to support girls and young women.
"We think it's extra special that we're able to partner with the Girl Scouts at this time...They're helping build young women of character. And hopefully a lot of these young women that we're supporting will be our future healthcare heroes, as well," Hall said.
The Girl Scouts of Black Diamond Council have also made it possible for members of the community to contribute financial support online, allowing local troops to donate additional boxes to area organizations. Find that link under Related Links on the right side of this screen.