Update: Pres. Trump could use "Defense Protection Act" to keep power plants open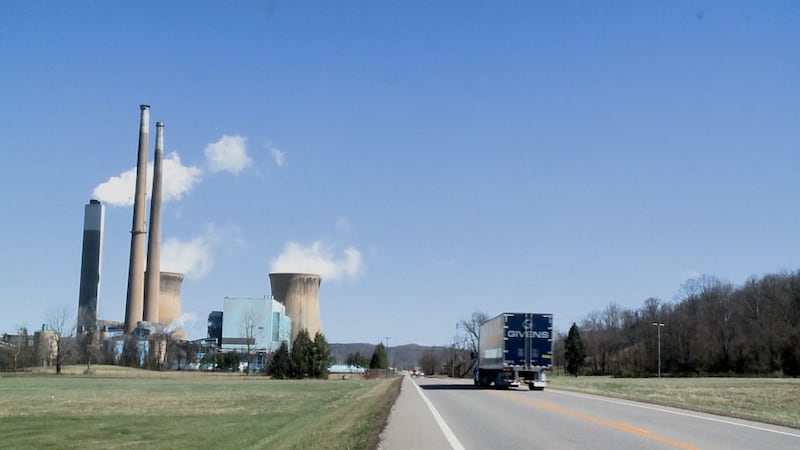 Published: Feb. 16, 2018 at 1:52 PM EST
Update: 6/1/2018 5:20 P.M.
President Trump reportedly is considering a plan that could keep coal-fired power plants open.
It's something local leaders and lawmakers have been urging the president take action on.
The plan the president is considering is called the "Defense Production Act".
Essentially, it would keep coal-fired and nuclear power plants in operation to promote preparedness for natural and man-made disasters.
According to a memo obtained by the Associated Press, the plan would direct electric grid operators to buy power from coal and nuclear plants for two years, to promote national defense and increase domestic energy supplies.
On January 1, 2019, the Pleasants Power Station is slated to be closed by First Energy, if a buyer for the facility is not found by then.
Jody Murphy, Execuitve Director of the Pleasants County Chamber of Commerce, is confident a presidential 202 (c) order would keep the nearly 40-year-old complex open.
"Now, whether it's operational under First Energy or another buyer remains to be seen," Murphy says. "But the plant's going to remain. And the (order) and the Federal Power Act are going to ensure that it will remain operational for at least the next two years."
Murphy notes Pleasants County Commissioner Jay Powell has been working with congressional representatives, in urging the president to take action to keep the plants open.
The action which, if approved, would take place through the Federal Energy Department, is described as "an unprecedented intervention into U.S. energy markets.
Members of West Virginia's state and congressional delegations all expressed encouragement at the reports.
Updated: 4/9/2018
U.S. Senator Joe Manchin has urged President Donald Trump and the U.S. Department of Energy to take steps to preserve several of the nation's coal-fired power plants, including one in the Mid-Ohio Valley.
Manchin is a member of the Senate Energy and Natural Resources Committee.
A statement issued by his office says Manchin (D-WV) has sent four letters advocating to protect endangered plants and grid liability.
He says preservation of those plants not only saves jobs in West Virginia and other affected states, it also protects the reliability of the nation's electric grid.
Manchin is a member of the Senate Energy and Natural Resources Committee.
Here is the letter Manchin sent the president:
Dear President Trump,
On March 29, 2018, Secretary Perry and the Department of Energy received a request for an emergency order pursuant to his authority under section 202(c) of the Federal Power Act. It is my understanding that this request by FirstEnergy Solutions is now under consideration. I greatly appreciate Secretary Perry's efforts to secure and strengthen our electric grid and, in particular, his consideration of this request.
As I have discussed with you and Secretary Perry on numerous occasions, many baseload units in the PJM Interconnection (PJM) footprint continue to suffer from the cumulative effect of an onslaught of overregulation, market rules that disadvantage baseload power, and subsidies and mandates that have encouraged negative bidding into competitive markets. In combination with the naturally occurring dynamics of our energy markets, essential baseload units that provide resilience and reliability attributes to our grid are struggling to stay operational. Many of these plants are located in the Ohio Valley region, including the Pleasants Power Station in Willow Island, West Virginia.
As it has time and again, coal-fired power generation performed well during the Polar Vortex in 2014 and more recently during this year's Bomb Cyclone. These extreme weather events tested our electric grid in an unprecedented manner and coal delivered. In fact, the Department of Energy's own National Energy Technology Lab (NETL) found that, at the height of peak demand on January 5, 2018, "had coal been removed, a 9-8 GW shortfall would have developed," NETL went on to conclude that, "In the case of PJM, it can also be shown that the demand could not have been met without coal."
The impending deactivation of numerous coal and nuclear power plants is of great concern for our grid, for our communities, and for our nation. In addition to the loss of jobs and threats to the economic livelihood of the communities in which these plants sit, our region and our nation's electric grid will become less resilient if no action is taken now to keep these plants operational.
Therefore, I urge your Administration and the Department of Energy to use its statutory authority to preserve these critical units. I thank you for your consideration and am happy to make myself available to you at any time to discuss these matters.
2/16/2018
First Energy says the 1,300-megawatt coal-fired Pleasants Power Station in Willow Island, WV will be deactivated to be sold or closed on January 1, 2019.
In a news release on Friday, First Energy Corp says its Allegheny Energy Supply subsidiary has notified PJM Interconnection (PJM), the regional transmission organization, of its plan to deactivate the Pleasants Power Station in Willow Island
The 1,300-megawatt (MW) plant will be sold or closed on January 1, 2019.
The plant's deactivation is subject to PJM's review for reliability impacts, if any.
In March, 2017, FirstEnergy subsidiary Mon Power filed a plan with the Federal Energy Regulatory Commission (FERC), seeking regulatory approval to acquire the Pleasants Power Station, which would have resolved a projected 10-year energy capacity shortfall and decreased electric bills for customers.
The FERC rejected that proposal on January 12, 2018.
The Public Service Commission of West Virginia approved the sale of the power plant, subject to a number of significant conditions.
First Energy says those conditions, combined with the FERC rejection, make the proposed transfer unworkable.
First Energy CEO Charles E. Jones said:
"Closing Pleasants is a very difficult choice because of the talented employees dedicated to reliable operation of the station and the communities who have supported the facility for many years. But the recent federal and West Virginia decisions leave First Energy no reasonable option but to expeditiously move forward with deactivation of the plant. We will continue to pursue opportunities to sell the plant while planning for deactivation."
The decision to deactivate the plant impacts approximately 190 employees. Affected employees may be eligible to receive severance benefits through the First Energy severance plan if the plant is closed.
The Pleasants Power Station began operation in 1979 and its two 650-megawatt generating units together produce enough electricity to power approximately 1.3 million homes, says the company.