UPDATE: 4,000 people without power during Wednesday night storms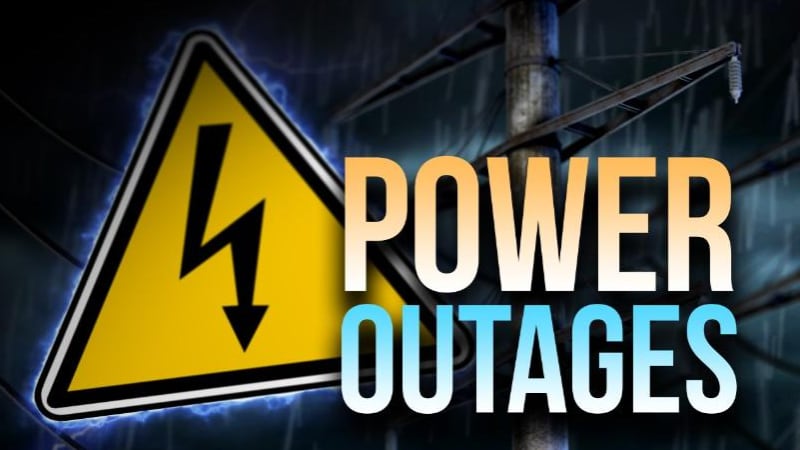 Published: Jun. 19, 2018 at 4:45 PM EDT
Power is out along Emerson Avenue from the library to Rosemar Road. It's expected to be out until 9 p.m. Two trees are down on power lines at Hardee's on Emerson Avenue.
YMCA on Broad Street is without power. It closed early.
UPDATE: 6/20/2018, 6:45 P.M.
Wednesday evening, around 4,000 Mid-Ohio Valley residents were still without power, after storms knocked out power for thousands of customers across the region.
Here are the latest power outage numbers from local electricity providers in the Mid-Ohio Valley, as of 6:45 P.M. Wednesday:
MON POWER:
Calhoun: 398
Doddridge: 229
Jackson: 5
Pleasants: 19
Ritchie: 0
Roane: 12
Tyler: 5
Wirt: 85
Wood: 1,393
APPALACHIAN POWER:
Jackson:8
Mason: 0
Roane: 0
AEP OHIO:
Athens: 9
Gallia: 5
Guernsey: 10
Meigs: 1,805
Noble: 13
Washington: 5
WASHINGTON ELECTRIC CO-OP:
Athens: 0
Guernsey: 0
Monroe: 0
Morgan: 0
Noble: 0
Washington: 1
UPDATE: 6/19/2018, 5:15 P.M.
The power is back on for thousands of area residents after severe storms on Tuesday afternoon caused power outages for nearly 1,700 customers in Wood County, and hundreds in surrounding counties.
As of 5:15 P.M. Tuesday, here are the latest power outage numbers from local electricity providers:
MON POWER:
Calhoun: 82
Doddridge: 5
Jackson: 15
Pleasants: 0
Ritchie: 5
Roane: 122
Tyler: 5
Wirt: 10
Wood: 5
APPALACHIAN POWER:
Jackson: 64
Mason: 5
Roane: 5
AEP OHIO:
Athens: 0
Gallia: 73
Meigs: 33
Washington: 13
WASHINGTON ELECTRIC CO-OP:
Athens: 0
Guernsey: 0
Monroe: 0
Morgan: 0
Noble: 0
Washington: 0